Renowned woodturner Charles Farrar transforms found wood into thought-provoking pieces of art. According to his artist's statement, his "fascination with the many properties of wood began when he was a child growing up in Southern Virginia." He is "happiest when creating from found woods that feature irregular grain patterns, knots, burls or voids, such that the finished work provokes a different commentary." Farrar's "ecological sensibility" drives his use of found wood—he is unwilling to cut down a tree for the sake of his art.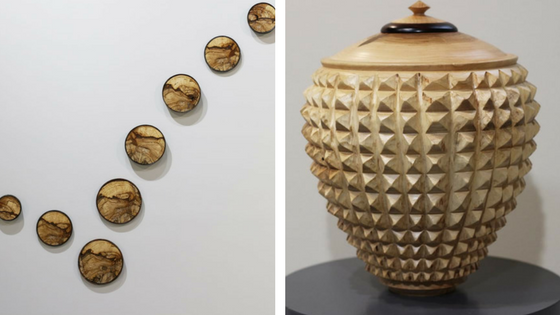 Farrar pays homage to woodturning's African (specifically, Egyptian) roots through evocative pieces that explore the African American experience, and he feels tied to his ancestors when he creates. His pieces range from vessels with "classical forms" and "finely finished surfaces" to pieces with "hand carved, textured or pigmented surfaces." The artist recently contributed work to an exhibition at the Elder Gallery in Charlotte, "The Art of Struggle," including African Honey Pot and Homage to Sharecroppers.
Since 1997, Farrar's artwork has shown in major U.S. cities, including Albuquerque, Charlotte, St. Paul, Atlanta and New York, and his work has been on permanent loan with the State Department at the U.S. Embassy in Madagascar. His recent exhibit schedule includes the Mary Martin Gallery, Charleston, SC; Old Courthouse Galleries, Concord, NC; Whitespace Gallery, Winston-Salem, NC; The American Association of Woodturners National Exhibit, Albuquerque, NM; the Griggs Museum at NCSU School of Art and Design, Raleigh, NC; the Harvey B. Gantt Center for Art + Culture, Charlotte, NC; the Delta Fine Arts Center, Winston-Salem, NC; Charlotte Fine Art Gallery, Charlotte, NC; Wingate University Gallery, Wingate, NC.; and Cape Fear Studio Gallery, Fayetteville, NC.
Farrar's work is in the permanent collection of the Danville Museum of Fine Art; the John and Vivian Hewitt Collection; the Studio Museum of Harlem; the Episcopal Diocese of Southern Virginia; Essence Magazine editor Susan Taylor; actress Debbie Allen; author and poet laureate Dr. Maya Angelou; Former US Solicitor General Walter Dellinger; The White House Collection; and the Archbishop of Canterbury. He is the recipient of the 2017 Gantt Center Spirit Award for Art Excellence.
Farrar lives and creates in Concord, North Carolina. He holds degrees from Virginia State University; Lambeth Palace, London; and was a James Solomon Russell Scholar in Religious/Philosophical Studies at St. Paul's College. He retired from the corporate world in North Carolina in 1995. The artist teaches at Arrowmont School of Arts and Crafts, Gatlinburg, TN, and the John C. Campbell Folk School, Brasstown, NC. He is a member of the Advisory Committee of the Mint Museum of Craft + Design, Charlotte, NC; Executive Committee of the Cabarrus Arts Council Board, Concord, NC; The American Association of Woodturners, the American Craft Council, and Charlotte Area Woodturners.
[Adapted from materials provided by the artist: Biography and Artist's Statement (www.charlesfarrar.com); Artist Information sheet; current exhibition materials, via Elder Gallery.]